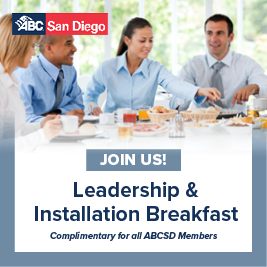 Date and Time
January 31, 2024
7:30 am - 8:30 am
---
Description
The anticipation is mounting as we prepare to enter a brand new year,  and what better way to mark the occasion than to celebrate and recognize the true backbone of our organization – our dedicated members  and volunteers! On this special evening, we will also be installing our  esteemed board of directors for 2024.
This exclusive event is a golden opportunity for all ABCSD members. It's an evening tailored just  for you – a chance to connect, mingle, and bask in the achievements of the past year while setting the stage for an even brighter future.
For questions, contact ABCSD's Marketing & Membership Manager, Rothany Vu, at rothany@abcsd.org or 858-203-0035.
Complimentary to all ABCSD members.
To RSVP, visit https://workforce.flashpoint.xyz/Lite/Event/Profile/974246000.