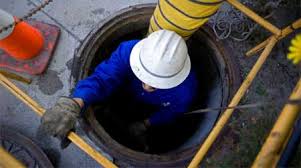 Date and Time
September 25, 2020
7:30 am - 3:30 pm
Location
13825 Kirkham Way Poway, CA 92064 USA
Cost
Members: $200
Non-Members: $250
---
Description
This course meets the classroom requirements of OSHA's regulations 29 CFR Part 1926, as well as Cal/OSHA Title 8, sections 1950-1962 for Construction. Upon completion, the participants will possess knowledge needed to operate as confined space entrants, attendants, entry supervisors and non-entry standby rescuers.
Participants will understand how to:
Identify and evaluate the hazards of confined spaces
Classify and reclassify confined spaces
Perform safe entry into permit, alternate, and non-permit spaces
Fill out and maintain the confined space permit and/or checklists
Develop and implement the means, procedures and practices for safe entry and work in confined spaces
Use appropriate testing equipment to ensure safe conditions
Use appropriate retrieval devices and fall protection
Isolate the confined space from recognized hazards
Purge, inert, flush and/or ventilate confined spaces
Eliminate any conditions that make it unsafe for attendants
Communicate effectively throughout the entry
Determine and perform appropriate non-entry rescue procedures
Recognize when additional rescuers are required
Summon additional assistance when necessary
Complete the entry and review the permit
Perform briefings and debriefings with controlling contractors
Competent Person certification is not possible in a classroom only or virtual environment. Therefore, each participant must demonstrate adequate skills to their employer prior to being assigned a role in a Confined Space Entry.
---
IS YOUR TUITION COVERED? If so, please contact Continuing Education at (858) 513-4700 or continuinged@abcsd.org to register. Student's email address and contact phone number are required.
Active Duty Military or Veteran? Receive a 10% discount off of your tuition for ABCSD's Continuing Education or Safety classes. To be eligible, you must submit one of the following:
Active Duty Military ID
VA Health Care ID
DL feat. Veterans Designation
Form DD-214
Document submission for eligibility is only required once. To register and receive your discount, please call or email Continuing Education at continuinged@abcsd.org or 858-203-0032.
Thank you for your service.
---
CLASS PARKING: If the gate (to the right of the building) is open, please park in back.
CANCELLATIONS must be received 48-business-hours prior to the start of class to receive a refund.
CANCELLATION IF TUITION COVERED: The above cancellation policy applies and notification to ABC is appreciated. Lack of cancellation and no-showing for a class will result in the full amount of tuition being deducted from any remaining Training Funds available to you for future use.
QUESTIONS? Please call (858) 513-4700 and ask for Continuing Education.